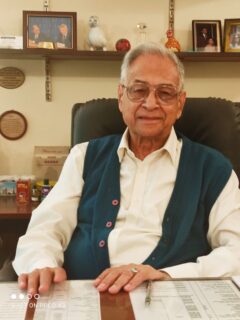 Vinod Kapur
Chairman, Keggfarms Group
The desire to make a fundamental contribution to the Indian Development scene sparked Vinod Kapur's interest in the field of Poultry, which was then in an embryonic stage in India.  It is thus that he envisioned Genetic Breeding of high yielding Commercial Poultry Stocks in India, leading to the establishment of Keggfarms in 1967.  That India has for decades been not dependent upon import of high yielding poultry stocks is a measure of his pioneering initiative to this end.
A Mechanical Engineer from Loughborough (Leics.), Vinod Kapur joined the Swedish Match Company in 1956, and worked with its Indian subsidiary – WIMCO – in various  capacities for seventeen years, rising to become Country General Manager at the age of 38.  He resigned this coveted position in 1973 to devote himself wholly to building Keggfarms.  Which in due course established the purposefulness, and the viability of genetic breeding of Poultry stocks within India and thus ending the country's otherwise total dependence on high-yielding poultry flocks from overseas.
In 1988, Vinod Kapur went on to enlarge the extent of his involvement with India Poultry scenario through establishing Indovax – a Poultry Vaccine manufacturing Enterprise. A renowned entity, Indovax, serves both Indian and Export markets through its sophisticated manufacturing Plant located in Hisar, and its widespread and intensive Marketing network. In 2008, Mr. Kapur further deepened his commitment to Poultry scenario by establishing Immunetic Lifesciences, a state-of-the-art production facility for (Specific Pathogen Free) SPF Eggs near Una, in Himachal Pradesh.
In mid 90s, Mr. Kapur played a nurturing role to enable his son Mr. Rahul Kapur establish Avitech Pvt. Ltd., a Company which has since grown to become a major national player in the area of Feed Additives and Micro nutrition – primarily for Poultry and also for the Aqua Sector.
Vitally in 1990s, Vinod Kapur led reorientation of Keggfarms to genetically develop Kuroiler@ – a multicoloured, dual-purpose poultry bird for rural households which could thrive even in strenuous field conditions.  And, equally vitally by devising and implementing an innovative Marketing network which could safely and economically deliver rural specific Kuroilers chicks to remotely located households in the hinterlands.  This unique socially relevant achievement, not only influenced the Government of India's priority with regard to Poultry Development in India, but also won Mr. Kapur wide-spread accolades for a viable and socially relevant Innovation aimed at Poverty Alleviation, Women Empowerment, and Food Security amongst rural poor.  Keggfarms innovative and socially relevant Kuroiler initiative went on to become a Case-Study at Harvard Business School, and for several years was also taught as a Case-Study in TRIUM (an alliance between NYU Stern School of Business, London School of Economics and Political Science (LSE), and HEC School of Management, Paris).
Mr. Kapur has also the distinction of successfully pioneering conversion of table eggs which was then a commodity egg  into a high end branded product – KEGGS.  A first which as expected has now several imitators.
Mr. Kapur's Kuroiler initiative has since been extended to several countries in Africa with the support of Gates Foundation and is gaining an increasing presence in that Continent.
Apart from his commitment to socially relevant commercial initiatives Mr. Kapur has a deep interest in Indian Classical Music and sustaining this national heritage.  He is, today,  possibly the foremost Patron of Indian Classical Music.